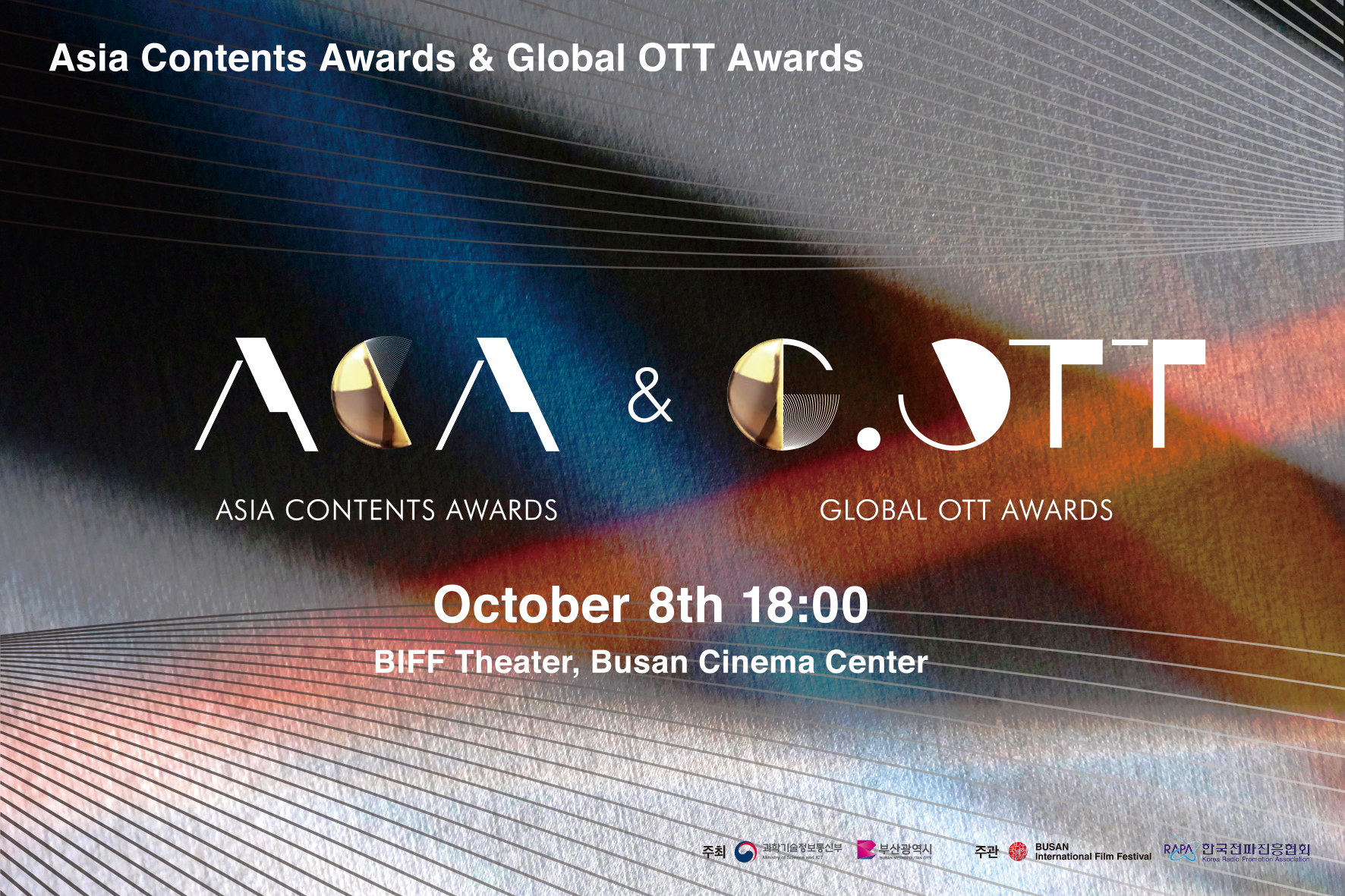 About
아시아콘텐츠어워즈(Asia Contents Awards, ACA)는 한국과 아시아 전역의 우수한 TV∙OTT∙온라인 콘텐츠를 대상으로 하는 시상식으로, 국내외 우수한 창작 콘텐츠 발굴과 콘텐츠 제작을 독려하기 위해 2019년 신설된 부산국제영화제의 대표적인 콘텐츠 특화 행사입니다.
올해는 과학기술정보통신부와 부산광역시가 공동 개최하는 국제 OTT 축제 (International OTT Festival)와 협력해 기존 아시아 전역의 콘텐츠를 대상으로 했던 시상식에서 글로벌 콘텐츠로 그 범주를 확대하고, 우수 OTT 플랫폼사를 대상으로 한 시상 부문을 추가해 아시아콘텐츠어워즈 & 글로벌OTT어워즈로 새롭게 선보입니다. 이러한 외연 확장에 발맞춰 기존 시상 부문을 개편한 2023 아시아콘텐츠어워즈 & 글로벌OTT어워즈는 가장 괄목할 만한 성과를 낸 작품에게 수여하는 베스트 크리에이티브상을 필두로 주∙조연상, 그리고 올해 새롭게 신설된 리얼리티&버라이어티상 등을 포함한 10개의 경쟁 부문과 공로상, 인기상 등 7개의 초청 부문으로 구성됩니다. 아시아콘텐츠어워즈 & 글로벌OTT어워즈는 주요 시상 부문을 활용해 후보작과 후보자의 대외적 인지도 제고에 기여하는 것은 물론, 콘텐츠 제작 우수 사례를 소개함으로써 관련 산업 종사자에게 동기 부여 및 벤치마킹의 기회를 제공할 것으로 기대됩니다.

The Asia Contents Awards (ACA) is an annual event that celebrates the achievements of excellent content on TV, OTT, and online platforms across Korea and Asia. ACA was established in 2019 in order to discover outstanding content and encourage content creation. As ACA marks its fifth year, it is the Busan International Film Festival's representative content-specialized event. This year, ACA has joined forces with the International OTT Festival, hosted by the Ministry of Science and ICT with Busan Metropolitan City. Moreover, award sections for outstanding OTT platforms have been newly added. As ACA has expanded its topography from Asia to the world, it returns as the 2023 Asia Contents Awards & Global OTT Awards (ACA & G.OTT) With the expansion, the awards have been reorganized as well. The awards categories are composed of 10 competitive categories, including the Best Creative Award, which recognizes the most outstanding content of the year, Best Lead Actor/Actress, Best Supporting Actor/Actress, and the newly added Best Reality & Variety Award, and 7 non-competitive categories, including the Lifetime Achievement Award and Rising Star of the Year.